Updated March 22, 2020.
Please note: There are affiliate links within this article, but I would never promote a website I don't trust or use my self.
This article is all about shopping cheap cute clothes online. There are many websites out there where I look at the price of the clothes, and I whisper "you have got to be kidding me." Like Hollister, for instance – the clothes are high priced, but the quality is garbage. Come on.
So I've went ahead and put together a list of cheap online clothing stores cheap with reasonable prices for the quality of clothes you are getting. Some of the costs are around $5.00 per top. I promise you this is not one of the articles to get you to click on something. Photos will be provided for each site with the prices to show you!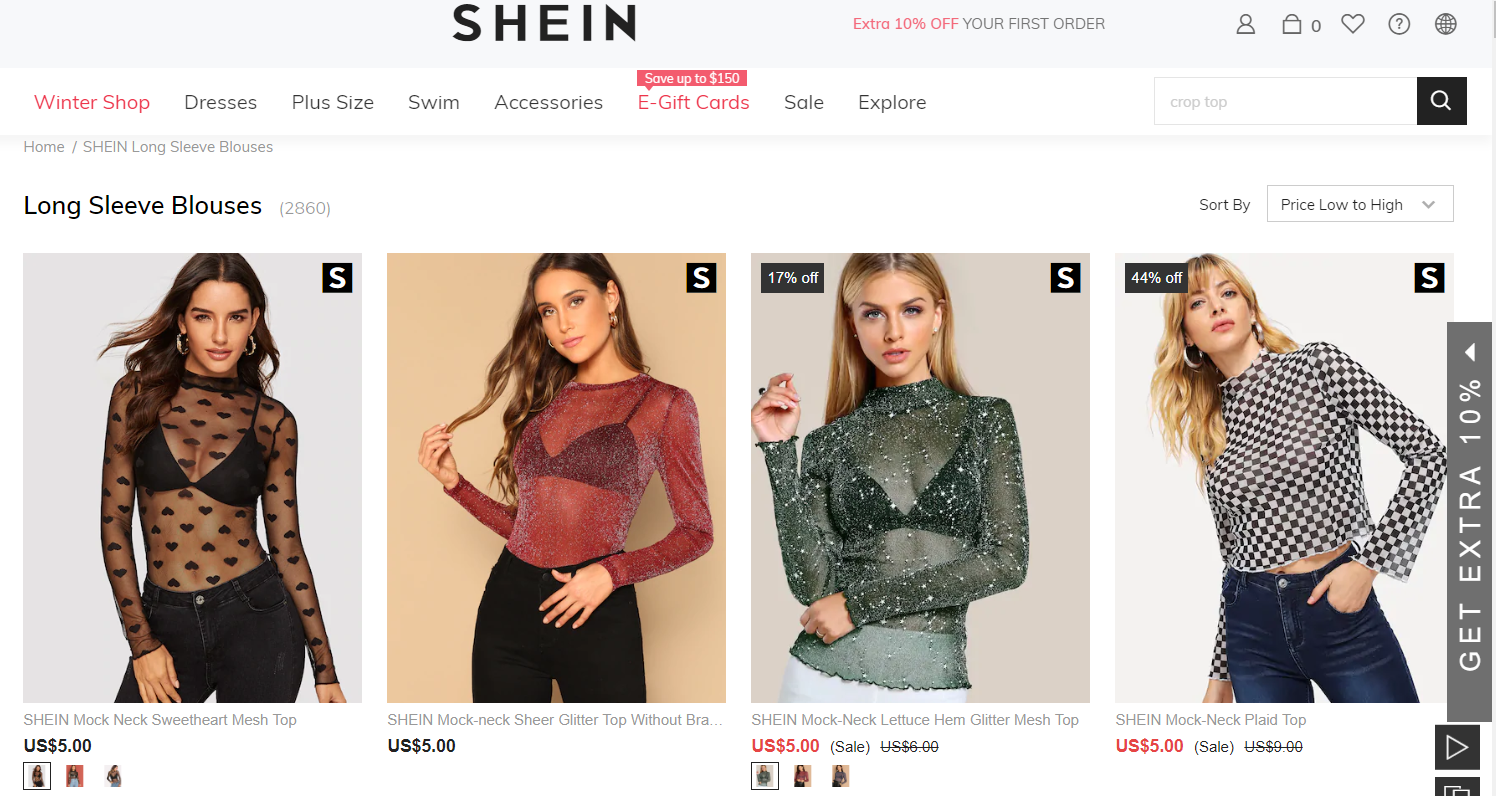 SHEIN
SHEIN is probably one of my favorite cheap online clothing stores on the list. They have knock-out sales weekly, where you can get beautiful blouses for less than $5.00. Plus the first time you purchase clothes they have fantastic savings opportunities for you. The price reduction for first-time clients changes all the time. Sometimes it's 10% other times it 25%, it honestly just depends on what sales they are running that week. SHEIN has everything from shoes to clubbing dresses.
I also go to the sale section first on this site. That's where you find the cheapest clothes on the site. Honestly, I think this is the most affordable store of cheap online clothing stores. The one thing I would recommend is to know your measurements before you buy things. Each item has the size and measurements, so be sure to check if the piece will fit before you buy it. You also can save your measurements and only view clothes that will suit you. I mean, how perfect is that?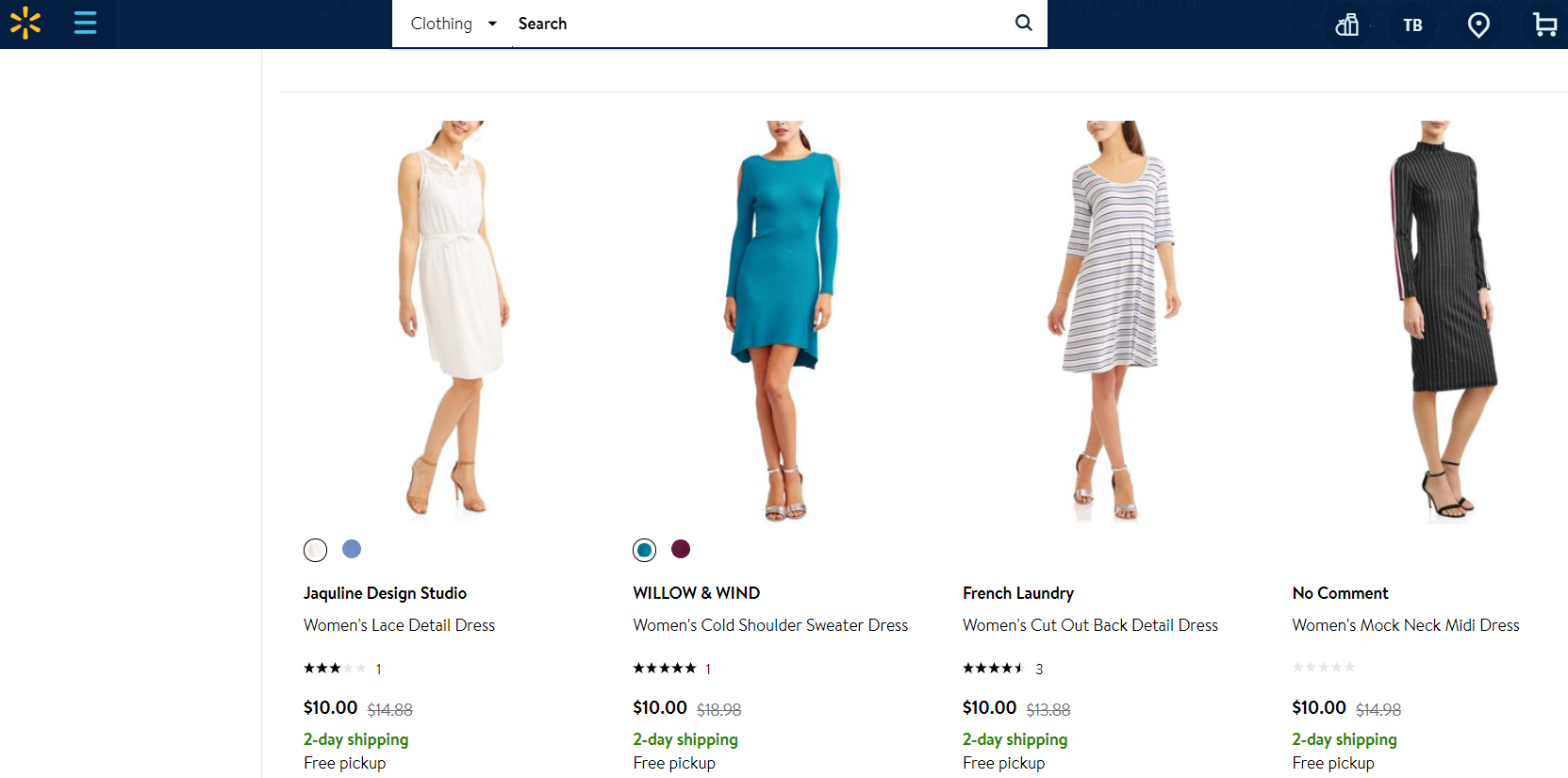 Walmart
Ever think to buy clothes from Walmart? I'll be honest when I was younger I did not shop online cheap, but as I've gotten older, I've started to be more responsible with my money and how I choose to spend it. I have to tell you I've always been super happy with the items I've purchased from Walmart. For example, my bookcase, my dinner plate set, and all toiletries. I buy a lot more from Walmart, but those were just a few examples. They do have cute cheap clothes for women. Even their pajamas are fantastic. They usually have free two-day shipping, which is a tremendous plus.
If you can't find anything for your self, look for clothes for your children. They are continually outgrowing clothes, and Walmart's prices are unbeatable. I buy the baby clothes all of the time for my girlfriends because they are perfect for a few uses until the babies grow out of them. Plus children get dirty playing on the playground, the park, or riding bikes. It just makes financial sense to buy the clothes you won't freak about when they get a little dirt on them. The best part is there still at that age where they don't care where you buy their clothes. Teens tend to go through a brand phase, but your seven and eight years old don't care what so ever. Just get the right color or character, and they are as happy as a clam.
Forever21
Forever21 has been one of the leading cheap online stores for years. They have everything from earrings to business attire at a killer price. They regularly have sales running. The styles are updated every few weeks, so there is always something new to buy. If you don't like any of the items on sale the first time, you look around to go back to the site in a couple of weeks there is a whole new selection.
The one thing about Forever21 is some of the clothes are not the best quality, so make sure to read reviews from other shoppers to make sure it's what you want. Then again, when you're buying a shirt for $5.00, you really can't be too upset if the shirt gets a hole in six months. Besides the lack of quality control, sometimes Forever 21 is another perfect place to get adorable clothes extremely inexpensive.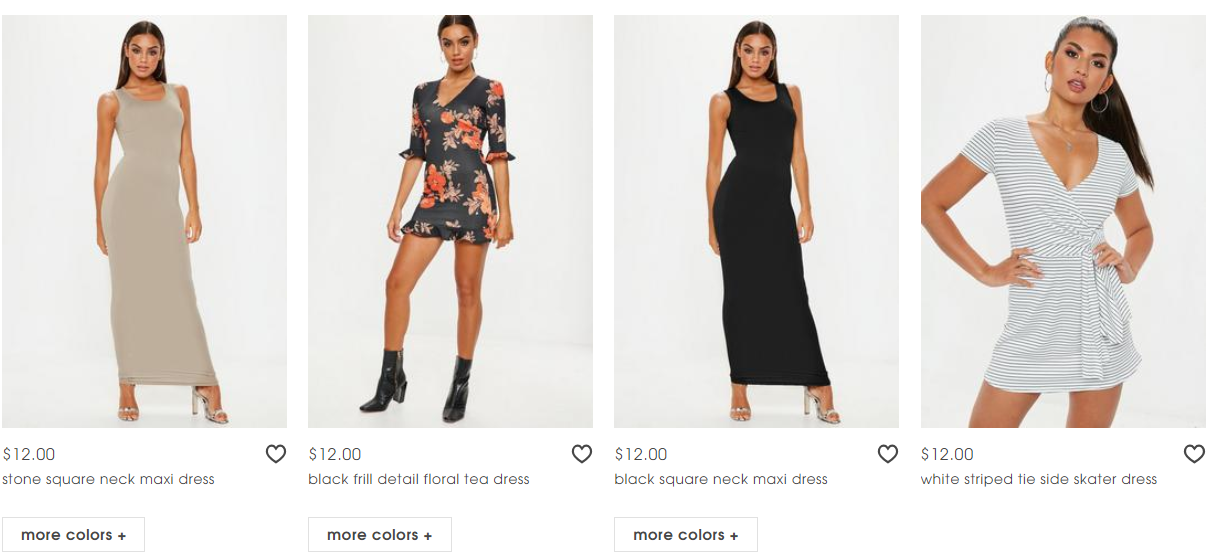 Missguided
Missguided is another one of the women's cheap clothing sites. It's very similar to SHEIN. Right now they are running a sale that saves you 35% off any your purchase, and they include standard shipping. With the discount, it would be an excellent time to try their clothes out and see if you like them. You can also go to Youtube and check reviews for the site from other women who have bought some of the clothes.
They have pages and pages on super decently priced clothing. I bought the floral dress from the photo above. It was too stinking cute for me to pass up and with it only costing $12.00 it was a no brainer. The clothes on this site are incredibly trendy and fun. Don't get me wrong they have beautiful business casual clothes as well, but most of the dresses are for your casual days or nights out. I'm a little smitten with this site, and it is a bookmark on my computer.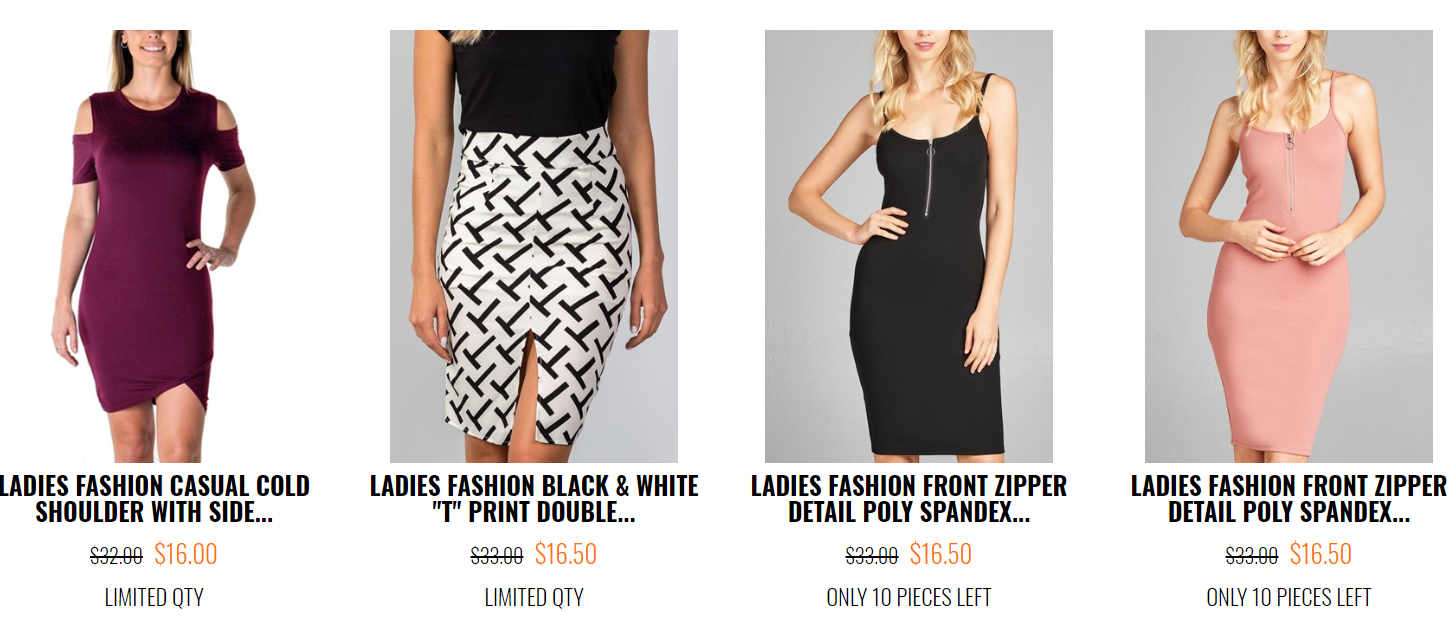 599 Fashion
599 Fashion is probably the most expensive of the cheap online stores on the list, but it is still decent for a discount website. They are running a 40% sale on your purchase right now, which makes it worth it. 599 Fashion has a rewards program that is wonderful. With every dollar, you spend, you get one point. Free items start at just 10 points, which is only $10.00. Just make sure you are logged in every time you make a purchase, or you could miss out on the savings.
599 Fashion has pretty high reviews all over the web, which is why it's one of the more expensive options of the cheap online clothing stores. There are thousands of woman who reviewed the site. They have free shipping on orders over $75.00. Let's be honest you've probably budgeted that amount for your shopping anyway. I would like for the shipping to be free regardless, but overall it's still a great site to get cute cheap clothes while online shopping.

AliExpress
AliExpress is another amazing cheap online clothing store. The prices are ridiculously low for most of the items because you are buying directly from the manufacturer. Buying direct may not always be the case, but usually, this is a true statement. Just be sure to check the seller's review and be wary of anything that is "too cheap". If something sounds too good to be true, it probably it is. Think of AliExpress like the Amazon of China. Ratings and buyer feedback are critical and accurate.
The downside is the shipping time; it could take up to 60 days to get your products. However, with the massive savings delaying instant gratification isn't always a bad thing. AliExpress still offers an escrow option which holds your funds with them until you get your items, which makes your transactions incredibly safe. If anything goes wrong, they will give you a refund directly instead of having to deal with the manufacturer.

Burlington Coat Factory
Burlington Coat Factory is one of my guilty pleasures. I always hit up their sale sections on their website! They have cute clothes for cheap that ship for free when you spend $75.00 or more. The best part is they offer free in-store returns. If you get something that doesn't quite fit you hop into your car and return it! Burlington Coat Factory has everything from watches to shoes, so they saving opportunities are unlimited!
You can seriously get quality shirts for as low as $2.99 since you have to spend $75.00, that is a lot of shirts for the money. Man do I love a good bargain. Burlington Goat Factory also has an abundant supply of super inexpensive maternity clothes for you expecting mothers out there!
Extras-
Summary of The Best Cheap Online Clothing Stores
I am so happy that I can share these cheap cheap clothing sites with you. SHIEN is how I stay looking adorable while keeping my budget intact. The other cheap online clothing stores on the list are fantastic as well. They all have their different perks. If you want more online clothing stores cheap view my updated list of fantastic sites here!
Here is one of my fashion tips for you guys. I recommend shopping for seasons as they are ending. That way, you get the best deals possible. Always buy swimsuits at the end of summer and your sweaters as you're saying bye-bye to winter. You will save so much money with this method of clothes shopping. You and your budget will thank you!
Just a reminder you can always view more tips and tricks on saving money here. You can leave a comment or email me suggestions on topics you would like me to cover for your financial freedom journey.
Xoxo,
The Finance Fairy