My favorite holiday is rolling around very quickly and I am so excited. You have no idea. Halloween is always such a fantastic time of the year for me, but it is also an expensive holiday in my household. Over the years I have mastered decorating my house for Halloween cheaply. Buckle up and get ready for my easy cheap Halloween decorations!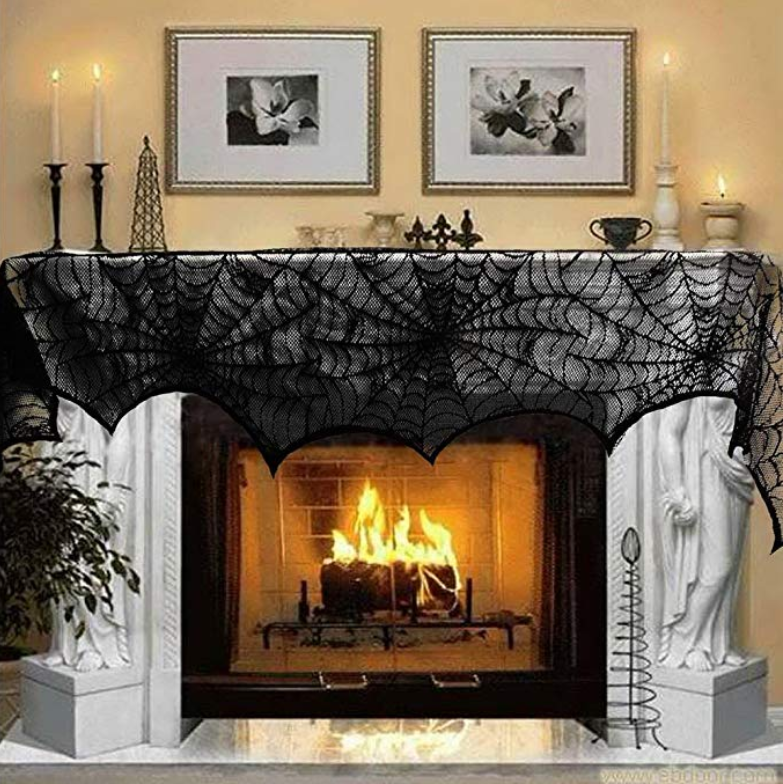 The first place I always check for easy cheap Halloween decorations is Amazon. Let's be real, Jeff Bezos runs the world, so it's always good to check prices there first. You can't beat the Prime two-day shipping that is branching into one-day shipping! The adorable spiderweb fireplace hanger pictured above is only $7.99 and you can get it here
! Did I mention it has a 4.5 rating with over 200 reviews? This is definitely going in my house this season and I don't even have a fireplace! It will look beautifully spooky over my bookshelf.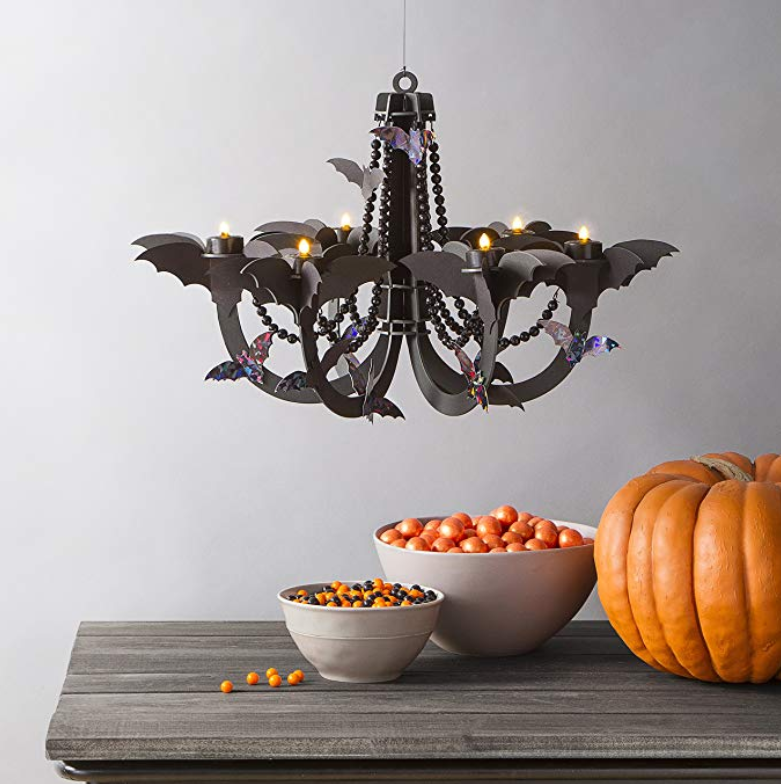 Or this amazing cheap and easy Halloween decor from Martha Stewart. Can you guess the price of this super cute bat chandelier? It's only $3.04!!! You do have to put it together with your self, so that is something to think about and because it is so cheap just remember that regarding the quality. However, for Halloween ideas cheap and for only $3.04 I'll find a place for it. You can look at the reviews and purchase this cute little guy here
.
Dollar Stores For Cheap Halloween Decorations
Now for the best cheap and easy Halloween decor you have to go to your dollar store. This is the real trick. I have been getting my cheap Halloween decorations from the Dollar Tree for years. They have so many things from decor that hangs on the door or window to massive spooky witches. The best part is everything is a dollar, so you can go buck wild without breaking your bank. Spend only $20.00 and your house will look haunted in no time.
Everything on these tables are just $1.00! Every dollar store will have different items, but you can't beat the savings. These specific items are available at the Dollar Tree! 
I love this skull and the little rat! So perfect for cheap Halloween decorations. 
I use the purple spiders every year. You can't really see it, but they are glittered out! They also have them in black, orange, and silver. 
Make your own spooky cups with the smoke effect by using dry ice!
The brains are just candy dripped with red food coloring! An incredibly easy and cheap way to spruce up your serving table.
Your Parents and Grandparents
Call up your mom, dad, and grandparents to ask them if they have any decorations they are willing to part with! Tip: You should also do this for regular furniture, dishes, and decorations. When I got my first apartment I swear my grandmother basically furnished it with her old items. This year for Halloween my grandmother gave me:
Set of four witch and owl plates
Black and batty table runner
Multiple pumpkin and witch candle holders and some that flicker!
A witch to sit on my bookcase
Two super cute hanging pieces with Halloween sayings
I never would have got all of that for free if I would not have asked. You never know you may leave your parents/grandparents house with more then your bargained for! You definitely can't get Halloween any cheaper than free ladies! 
Everything pictured besides the center piece was given to me by my grandmother! I bought the centerpiece from Ross for $6.99!
My cat wanted to be in the photo shoot, and he just looked too cute not to add him. 
All free, but I do think you can find similar items like these at your local dollar store and Ross/Marshall's.
The table is from WayFair. I got the table and chairs for around $300.00. I just love the blue chairs! 
Cheap DIY Halloween Decorations
If you don't want to buy a ton of decorations you can always have a cheap DIY Halloween. Your local craft store, Joanes, Michael's, Dollar store, and Amazon have all the supplies you could ever need. You can also re-purpose the items you have in your house. The Dollar Store created this gorgeous wreath, which you can see the how to here. 
I just though these little guys were fantastic!
Buy some pumpkins and slap on some paint if you don't feel like carving this year!
Both of the wreaths are incredibly inexpensive to create! 
This cupcake stand is incredibly easy to make. It's less than six steps!
Don't let a tight budget ruin your Halloween fun! Between asking your parents and going to the Dollar tree everyone can design a little something something this year! While your reading this if you haven't created a budget yet, head over here to purchase my custom designed downloadable budgeting template designed specifically for you by me!
Take some pictures of what you create and share them! I can't wait to see what you come up with all the cheap Halloween ideas!
Xoxo,
The Finance Fairy